Key laboratory of Nanjing Medical University
"Medical Innovation Team" in Jiangsu Province
Featured advantageous specialty laboratory jointly constructed by central and local authorities
National Medical Institution Conducting Clinical Trials for Human Used Drug (GCP)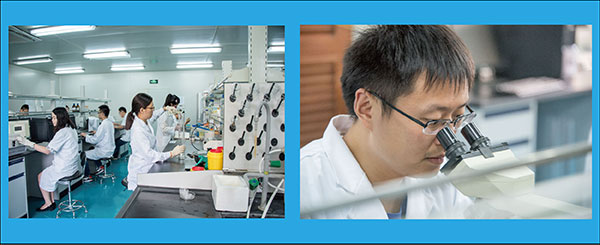 The hospital owns the largest modern provincial ophthalmology laboratory covering an area of more than 400 square meters, and it is the key laboratory of Nanjing Medical University mainly engaged in the basic ophthalmology research. The medical optical teaching laboratory of the hospital is the featured advantageous specialty laboratory of university jointly constructed by central and local authorities. In 2017, Jiang Qin's research team has been awarded the "Medical Innovative Team in Jiangsu Province." In the 2016 ranking of hospital technical influence in China (top 100 in ophthalmology) issued by Institute of Medical Information, Chinese Academy of Medical Sciences, we ranked thirty-ninth.
In recent years, the hospital has undertaken eight projects of National Natural Science Founds, participated in one project of national "973" , three projects in Jiangsu Natural Science Funds (basic research plan), one in the Top-six Talent Peak Projects of Jiangsu Province, one in the Qinglan Project of colleges and universities in JS, two in Natural Science Basic Research projects of Jiangsu higher education institutions, two in Post-doctoral Funds of Jiangsu Province and other nine projects of Nanjing. We have won a first prize of Achievements in Scientific Research of the Chinese People's Liberation Army, a third prize of Chinese Medical Technology Award, four awards in Jiangsu Medical Science and Technology Progress Award and two awards in Jiangsu Health Department Science and Technology Progress Award.


56 SCI theses have been published with the total impact factor of 203.072, including one thesis with impact factor exceeding 10 points and 17 theses with impact factor more than five points, such as "Aberrant Expression of Long Non-coding RNAs in Early Diabetic Retinopathy", which was elected as one of the top 10 theses in 2014 by the journal, was published with an impact factor of 3.72 in IOVS which is the most authoritative journal in basic research of ophthalmology, "LncRNA-MIAT Regulates Microvascular Dysfunction by Functioning as A Competing Endogenous RNA" was published in the international authoritative journal Circulation Research with an impact factor of 11.089, which ranked No. 10 in the frequently quoted research theses published by China's authors in the medical field in 2015, and "Long Non-coding RNA MALAT1 Regulates Retinal Neurodegeneration Through CREB Signaling", was published in the international authoritative SCI journal EMBO Mol Med with an impact factor of 9.547.